New digital signage displays also known as a transparent media façade are making their way into the media architecture world. Transparent LED digital signage is changing the face of signs in America by bringing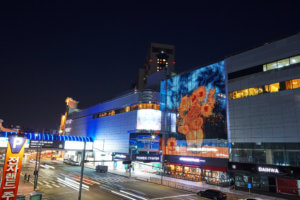 them to life with color, motion and a whole new transparent dimension! Digital Signage Displays Using Transparent LED (or TLD) have been around for about 10 years, but it's only recently that they've become more mainstream because this system of digital signage is being used in all types of businesses from hospitals to retail stores.  Even more amazing, these new transparent LED digital signage displays are now used to change the exterior of buildings and convert the building facades into visually stunning branding experiences.
Transparent LED digital signage has been around for over 10 years now and has seen increased usage due to its ability to be installed virtually anywhere. With these advancements in technology, we can expect transparent LED digital displays to become even more popular than they already are.
Investment in Digital Signage Experience
Companies have begun to explore these new displays as a great investment in creating an engaging customer experience.  When transparent LED digital signage first began use in public spaces it was seen as an anomaly.  With the advent of digital billboards, the public began to take notice and accept large scale led display signage as normal.
Increase in Prevalence of Digital Billboards
The number of digital billboards in the U.S. had risen from 6,400 in 2016 to more than 10,000 in 2020.  The expectation is that this number is going to continue to increase dramatically over time.  Advertisers in the U.S., who spent more than $3.5 billion on digital OOH (digital out of home) advertising in 2019 are expected to spend approximately $5.2 billion by 2023.
Promising markets emerge for LED signage
The U.S. is expected to see an additional increase in demand for this type of technology due to the rise in outdoor advertising spending forecasted by Statista. In China meanwhile, digital signs are a part and parcel of everyday life such that it would not be unusual however to find them on buses or even inside subway stations where they can provide both commercial as well as public service announcements simultaneously with little interruption from other ads that might otherwise obscure visibility.
Reasons For Transparent Media Façade Popularity
When a person sees a transparent LED glass display they cannot help but stop and look.  Often, they stop and stare.  These displays are impressive and attention getting to be sure.  Here are some other reasons why these displays are so popular:
See-Through – Transparency allows media walls to become multi-dimensional by adding unique value. Not only can you display endless media and interactive experiences but now you also have unobstructed views in and out of your building.
Energy efficient – LED's use less energy than other digital signs. Also, our LED glass can be specified to meet energy performance requirements for your building. Transparency is also key in saving energy costs by allowing natural sunlight into buildings. Transparent LED has a much longer lifetime than traditional LED and saves energy by not being powered on 24/7. When our LED glass is turned off, it is fully transparent architectural glass.
Flexibility – Transparent glass led displays can be fully customized just like standard architectural glass to meet your building design requirements.
Cost Effective – Installing our LED glass saves time and money on constructing media facades since one single installation of glass doubles as your media wall and building material. Our LED's are also fully sealed and protected in between construction-grade glass, maximizing the lifetime expectancy of our LED's (>100,000 hours) and minimizing maintenance and repair.
To date there have been significant advancements made to this technology that allow these screens to be installed virtually anywhere which is why we will continue seeing increased usage with these types of digital displays going forward.